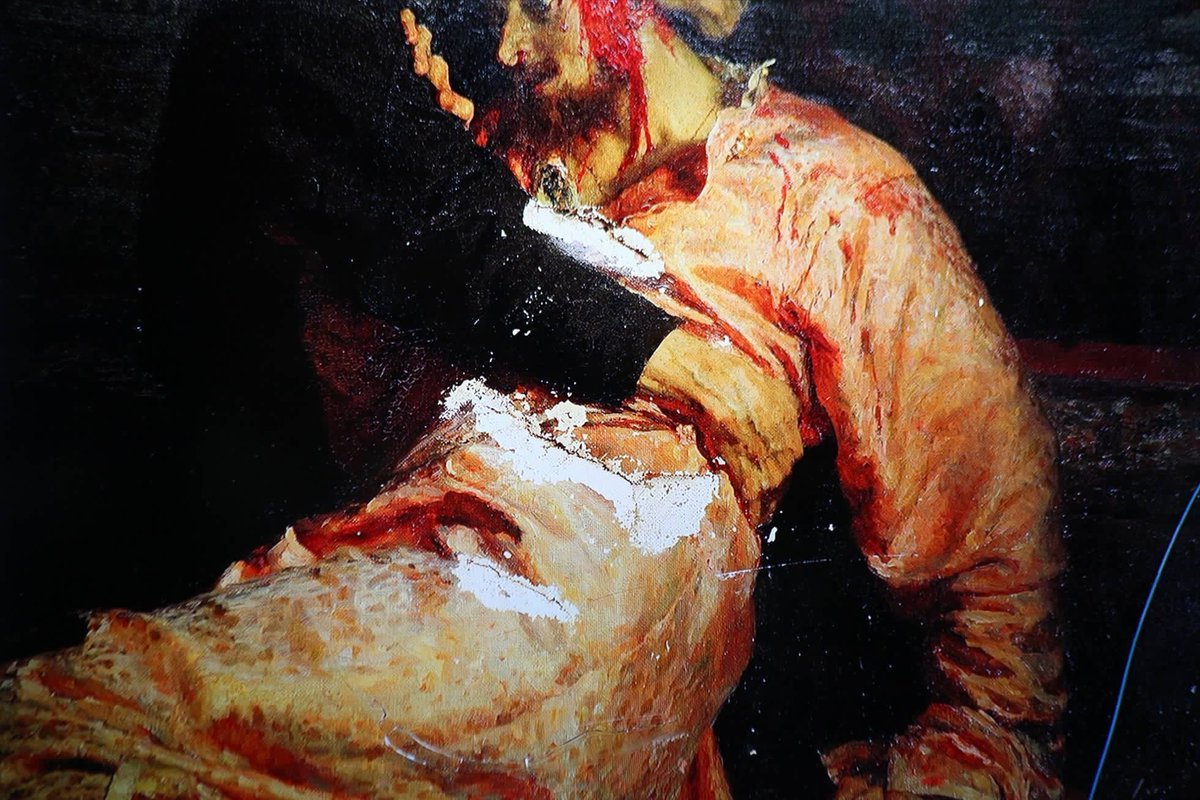 Ilya Repin "Ivan the Terrible and His Son Ivan" (1885) / metal pole

In May 2018, this work was attacked while on view at Moscow's Tretyakov Gallery. 
The attacker, identified as 37-year-old Igor Podporin, used a metal security pole to land several blows to the painting, slashing the canvas in three places and badly damaging the frame.

In a video released by the Interior Ministry, Podporin later said he'd struck the painting because he felt "overwhelmed" after drinking more than two shots of vodka in the museum's cafe. "I came to look at the painting," he told the police. "I wanted to leave, but then dropped into the buffet and drank 100 grams of vodka. I don't drink vodka, and became overwhelmed by something."
But at his arraignment, Podporin recanted, admitting that he was motivated by nationalist ideology, not drunkenness. According to historical accounts, Ivan the Terrible killed his son in 1581 by hitting him over the head with a staff during a heated argument. Today, the incident is disputed by some historians and Russian nationalists, who believe the West has exaggerated the ruler's conduct to negatively portray the country. Last year, even President Vladimir Putin reportedly expressed doubt over the tsar's guilt. "The painting is a lie," Podporin said in court. "He [Tsar Ivan the Terrible] is ranked among the community of saints." 
Ivan Melnikov, a human rights officer who visited Podporin in custody, said Podporin was concerned about how the painting would influence foreigners' views of Russia. "When I got to the Tretyakov I couldn't stop myself," he reportedly told the officer. "Foreigners go there and look at it. What will they think about our Russian tsar? About us? It's a provocation against the Russian people so that people view us badly."

This was confirmed by gallery curator Tatyana Gorodkova, who was on-site at the time, as she heard Podporin shout that Ivan the Terrible did not kill his son as he struck the painting.

Though the damage was considerable, officials believed the work could be restored, at which point it would be reinstalled under bullet-proof glass. 
This is actually the second time the painting has been attacked: In 1913, the work was damaged - this time by a knife - by a man who was later deemed mentally ill. Repin, who was alive at the time, was able to restore the canvas himself. Read more about that incident HERE.